Big Bad Voodoo Daddy - It Feels Like Christmas Time - Autographed!

Big Bad Voodoo Daddy, purveyors of American big band, jumpin jazz and blues have a special holiday gift for naughty and nice fans alike. The multi-platinum selling, Grammy nominated band is back with a holiday album entitled It Feels Like Christmas Time, featuring a mix of traditional favorites and original material.

It Feels like Christmas Time, the bands tenth studio album, follows the release of Rattle Them Bones the record that put Big Bad back at the top of charts last year reaching #1 on the Jazz Album Chart on both iTunes and Amazon and was the highest debut on the Billboard Jazz Chart entering at #2.

It Feels Like Christmas Time, produced by BBVD founding member and lead singer Scotty Morris with band-mate, pianist and arranger Joshua Levy and mixed by Morris, was recorded In Los Angeles at East West and Capitol studios. The album includes the Morris original It Feels Like Christmas Time, and features guest harmonies by vocal group She, Her and I as well as a duet with newcomer Anna Kasper on the classic & What Are You Doing New Year's Eve?; The album also features the crowd favorite Christmas Is Starting Now from Disneys Phineas and Ferb.

Order the CD or pre-order the Vinyl today and get an Autographed copy, while supplies last! Click here to learn more...



Larry Kirwan of Black 47

1. What is your best childhood memory?
It's of my Dad who was a merchant marine coming home from sea when I was about seven. My mother and I were standing on the platform of Wexford Train Station on an early summer morning waiting for him. Then he appeared from the train, all rumpled from the night's boat and train travel; my mother ran into his arms while I shyly waited. He bent down and gave me a hug. It was the inspiration for Life's Like That, Isn't It? from my solo album, Kilroy Was Here.

2. If you could have a room full of any one thing, what would it be?
Dogfish 60 IPA.

3. What is your favorite flavor of ice cream?
I'm partial to them all but have a soft spot for Rum Raisin even though it's a bit of a problem in a milk shake.

4. If you could be any fictional character, whom would you be?
Oddly enough, I identify with Sydney Carton of A Tale of Two Cities and Robert Jordan of For Whom The Bell Tolls, even though I would prefer not to share either of their fates.

5. What's the one thing you own that you know you should get rid of but never will?
A certain low level of anxiety that invariably seems to hover around my left shoulder.

6. What book are you currently reading (or the last one you read)?
I'm a bit like a bad-assed honey bee: I flit from flower to flower. I just finished The Yellow Birds by Kevin Powers, anyone who has an interest in the War in Iraq should read this powerful novel. I'm struggling through A Place of Greater Safety by Hilary Mantel. I'm also reading a biography of Brendan Behan, and treasuring various poetry collections of Seamus Heaney.

7. What is your favorite word, phrase, quote or lyric?
Better a lucky day than an early start.

8. What is the most inspiring concert or performance you have ever seen?
Bob Marley in Central Park, NYC or Rory Gallagher at any of the many concerts of his that I was fortunate enough to catch.

9. Name something you love that no one else seems to like. (Or name something that everyone seems to love except you.)
Either of the following two bands - Van Der Graf Generator or The Incredible String Band.

Apart from leading Black 47 Larry Kirwan hosts Celtic Crush on SiriusXM, The Spectrum, Ch. 28 every Saturday 7-10amET and Tuesdays at 11pmET. He accompanies a group of visitors to Ireland every October. For information blk47@aol.com.




Enter your email address here to sign up for our monthly eNewsletter! To see this month's edition, click here.

"I believe in living smitten / I believe all hearts will mend / I believe our book is written / By our company of friends"
- Danny Schmidt


Click Here For All Digital Artists!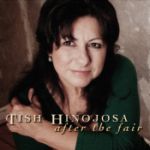 -eXciting news!-
Tish Hinojosa - After The Fair
After The Fair, the 15th album from the Folk singer/songwriter is her first in five years. The music is about Tish's time spent in Hamburg, Germany from 2004-2013. Including her memories of the Reeperbahn, The Dom (Hamburg's traditional fair that appears three times a year), Schlaggermove (the celebration of 70's Disco morphed into a bizarre parade), and the Soccer World Cup of 2006.

The album features the Paul McCartney song A Certain Softness (Me Captivo Con Su Mirar) translated into Spanish. It originally appeared on his album Chaos and Creation in the Backyard. In addition the album includes the Woody Guthrie song Deportee, also translated into Spanish.

Click here to order After The Fair!



-eXciting news!-
Rick Shea - Sweet Bernardine
If your tastes run toward hard working, literate, back 40 folkies like Tom Russell, Chuck Pyle, Jimmie Dale Gilmore and others like that, Rick Shea is sure to be another that you're going to dig as you wonder why he isn't better known. With a very personal edge to his writing and singing, this is classic folkie/troubadour stuff that cuts right to the chase and delivers moves that others can only turn into cliches. Check it out, it's the real deal. - Midwest Record

Click here to purchase Sweet Bernardine on CD or Digital Download!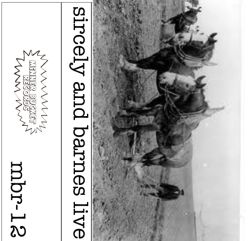 -eXciting news!-
Minner Bucket Records - Sircely and Barnes Live
Dispatch from Danny:
So my good friend that lives up here by me, matt sircely, we pick music together and play around here when we get the chance. Earlier this year [2013], we hopped into his 300,000 mile bailing wire and duct tape Honda automobile and did a west coast couch circuit tour. This is a document of that effort. Its a live audience recording of us playing a small club date in California, and one snippet of a radio show we were on. Matt is a great songwriter/musician. Its just the two of us on here, I play mostly my meher baba guitar through a lot of pedals and he plays mandolin and sings. the program is a mixture of his songs, mine, and a standard or two. Its 60 full minutes of music! We are working on a subsequent solo tape of matt's great songs.

Click here to order the Sircely and Barnes Live on Cassette!



-eXciting news!-
Black 47 - So Long, Farewell
Black 47 lead singer Larry Kirwan says his Irish-American rock group plans to disband in early November 2014, 25 years after its first gig.

"We remain as good friends as when we first played together," Kirwan wrote. "We just have a simple wish to finish up at the top our game after 25 years of relentless touring and, as always, on our own terms. The last gig we played at the South Buffalo Irish Festival was as good as any we've ever performed. Our goal now is to play another full year plus and dedicate all of those gigs to you who've supported us through thick and thin. Rather than just running out the clock we will be recording 'Last Call,' an album of new songs in November. Read more here.

Check back in the store for the new release in January!


-eXciting news!-
1 A Minute - HUGE SALE
Somewhere in the world, a woman dies of breast cancer, EVERY minute! 1 a Minute is an unprecedented push by global celebrity women to help raise funds for a cure, promote awareness and prevention as well as support survivors of women's cancers. The film follows a woman's journey through cancer with a focus on breast cancer, the most frequently diagnosed cancer in women worldwide. At each stage of her journey, the stars, who are survivors or affected closely by cancer, jump in and recount their experiences. The film is a hybrid between narrative structure and documentary style with interweaves throughout the picture, with stories of "Hope, Courage and Survival"! The film stars Olivia Newton-John, Jaclyn Smith, Namrata Singh Gujral, Melissa Etheridge, and others. A portion of proceeds will be donated to cancer charities. October is Breast Cancer Awareness month, so all items in the 1 A Minute store are $5.00!! Click here to order.





This lengthy interview with Danny Barnes covers a lot of ground, including his latest endeavor, Minner Bucket Records, a cassette only record label.

GQ Magazine asked Rob Delaney about his favorite things...read about Rob's 10 Essentials here.

Frank Klepacki, currently the Audio Director at Petroglyph, oversees the creation and implementation of music, sound effects, and voice-over on all projects. He recently did an AMA on Reddit, check it out here.

Check out this interview with Sundy Best, and stop by the store to check out all the new merch!

Darden Smith started an organization called Songwriting with Soldiers that helps veterans process their combat experiences through music. Darden recently wrote an article on Huffington Post about the program, which you can read here.